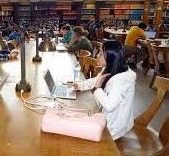 College students of any age can become student affiliates, either through a branch or as a student affiliate-at-large. National student affiliate fees are $17, (plus separate branch and state dues, if you decide to join at all three levels).
To join AAUW California as a student affiliate, forward your confirmation of membership from National (required) to [email protected] and send a check for $1PO Box 160067 Sacramento, CA 95816-0067.
Students attending colleges and universities that are AAUW partners may join as e-student affiliates absolutely free and continue their free membership until they graduate. To be a California e-student affiliate, forward a copy of the confirmation from National (required) to [email protected]
Visit AAUW National for more information on becoming a student affiliate. You can also contact the membership chair regarding this or any AAUW California membership matter.