Join Us!
With tens of thousands of active members, AAUW and its state arm, AAUW California, are dynamic organizations with a long history of affecting change on issues our communities care about:
Economic security for all women | Equal access to quality public education
Social and racial justice | Increased representation of women in leadership
AAUW's Mission: To advance gender equity for women and girls through research, education, and advocacy.
AAUW's Value Promise
By joining AAUW, you belong to a community that breaks through educational and economic barriers so that all women have a fair chance.
Why should I join AAUW?
Meet dynamic, like-minded people from all walks of life.
Learn exciting things.
Keep your mind active; practice your skills.
Help women and girls.
Make a difference in your community.
Make your voice heard on important legislation.
Receive corporate discounts.
Requirements: Membership is open to people who hold an associate degree (AA,AS) or higher and also to students working toward a degree.
Step 1
Find a local branch.
It's easy. You can either:
Find a local branch by entering your address or zip code in the box above the map to find one nearest to you.
Join one of our online branches:
When you click on a branch a new window will open. Return to this window to join.
Enter your address or zip code below and click search icon

.
Step 2
Join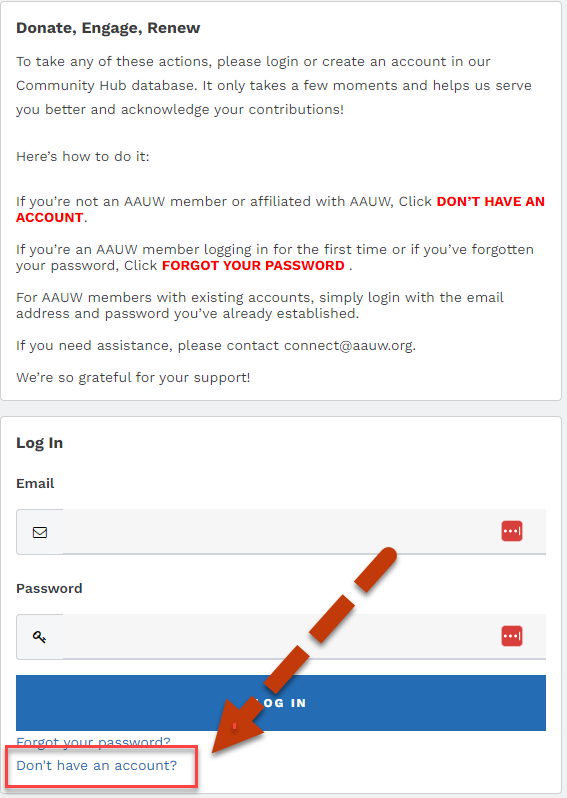 Step A: Gather your information.
Your educational record
List of branch(es) you want to join
Branch ID Number(s) (begins with CA).
Your credit or debit card
Step B: Click the button to create an account on AAUW.org.
Choose Don't have an account? at the bottom of the screen to start the process as shown in the image on the left.
During this step you'll be able to enter your educational record, pick a state and branch(es), enter a coupon code if you have been provided one to use, and pay your dues.
Congratulations! You're a member!
Your branch(es) will receive notification that you have joined and contact you.