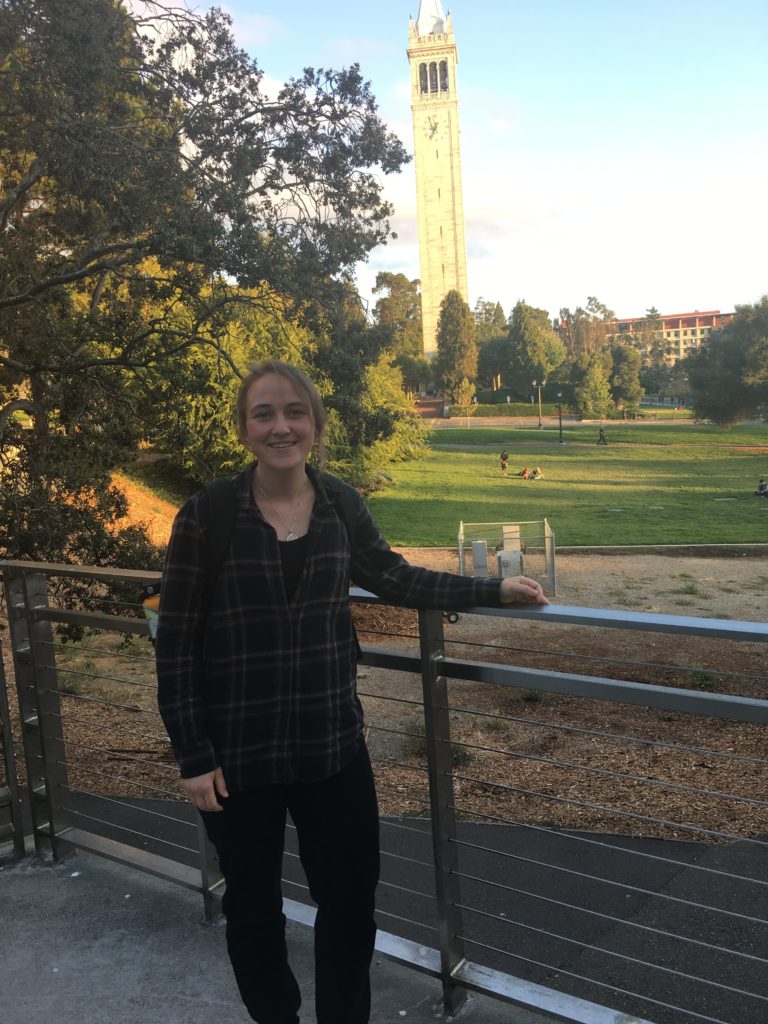 Auburn native Tasha Lewis didn't see a clear path ahead of her when she graduated from Placer High School in 2015, so she decided to attend Sierra College and explore her options.  Today, she is flourishing in her Junior Year at UC Berkeley, on track to receive a degree in Materials Science and Engineering.
"I owe my career to Sierra College," Tasha said.  "If I had gone to a four-year school right away after high school, I would never have taken STEM (Science, Technology, Engineering, and Math) courses.  Sierra College allowed me to explore many different career fields.  Sierra lets you develop your background so that you can make the best possible career choices."
Many students who attend two-year community colleges plan to transfer to a four-year college before their junior year. Unfortunately, for far too many students, money has run out by the time they are ready to transfer. Fortunately for Tasha, AAUW Auburn decided last year to pilot a new type of college scholarship to complement their traditional set of scholarships for high school graduates. Tasha learned about the new program from the Sierra College Scholarship Portal, applied, and won the first award!
"There is virtually no money for community college transfers to four-year colleges," explains Brandee Ambrosia, Chair of the branch's Scholarship Committee. "This is a gaping problem because community college is an excellent choice for many people to find their path. Also, value-oriented kids realize that they can save a lot of money by going to a community college for two years and then transferring." The absence of this type of scholarship limits opportunities for our local youth.
"I'm incredibly grateful for the AAUW scholarship," says Tasha. "Every single dollar means so much. I was out of funds, and there is no way that my single mom could support me." Tasha's father passed away during her freshman year of high school.
During high school, Tasha focused on sports and leadership opportunities, especially soccer, swimming, and cross-country. She was also active in 4-H and FFA (Future Farmers of America). When she got to Sierra College, she was shocked to discover that, although her entrance test in English was good, her math and physics scores were low.
Tasha was interested in working on environmental problems, but it was Sierra College that helped her develop that idea into a well-defined and achievable goal. Slowly, course by course, she remediated the courses that she was missing, including seven math classes, four physics classes, and three chemistry classes.
"It was daunting," Tasha admitted, "but my fellow students and I built a strong community, and we got super close." Along the way, she left her shyness behind and gained confidence in her skills.
"My favorite class was math, even though I found it extremely difficult," she revealed.
"The professors went out of their way to make the material have meaning for us, and we got to know them really well. Now I'm on a first-name basis with my professors. It's what I remember most about Sierra College, honestly, because those relationships meant so much to me."
One of the best opportunities Tasha discovered was a Saturday class organized by a professor who invites engineers from different companies to talk about their specialties. "That's the class that changed my mind from Environmental Engineering to Mechanical Engineering and then to Materials Science and Engineering. It is broader than environmental and will allow me to work on filters and batteries so that I can make more of a difference in the environment. I'm interested in working on major problems like climate change and how to recycle trash." She doesn't want to box herself in, so she is also taking classes in Bioengineering and Chemical Engineering.
At Placer High School, Tasha was widely admired for her friendly smile, hard work, and vivacious spirit.
"She was an 'A' student, yet she was still humble and genuine," explains Tasha's former English teacher, Brittany Haydon. "She showed a lot of grit through times of adversity, and she was always a great role model for younger kids."
It can be lonely going to college by Zoom, especially compared with the camaraderie of her Sierra College classes.
"I have not yet taken a class on the Berkeley campus," she sighs, but she is making friends and building relationships, despite the Covid pandemic. So far, her classes have been only by Zoom, and her "classroom" is the desk in her bedroom at home.
"You have to put yourself out there 100 times more," she says of the Zoom culture. "It is easy for people to feel isolated. You have to try a lot harder to make friends. I need to pretend that I'm really going to classes, so I make sure that I turn on my video and brush my hair." Many schools and colleges do not require students to turn on their video cameras, making it harder for teachers to gauge student understanding and more difficult for students to interact with one another.
"I've noticed that girls don't turn on their cameras as much as boys do, and I really wish they would," Tasha adds, revealing her interest in encouraging other young women to take STEM classes.
Fortunately, UC Berkeley encourages students to discover common interests by connecting on LinkedIn. Everyone in her department can find each other, and it is a good way to start building rapport with people who share similar interests.
UC Berkeley has helped Tasha go further in her exploration of engineering, and she is even considering research opportunities in graduate school. This semester, she is taking classes in programming and data analysis. She has also joined the Space Technologies at Cal (STAC) club, where she practices AutoCAD skills and makes new friends. She also joined the Materials Science and Engineering Association to develop professional relationships.
Tasha is the branch's first recipient of a scholarship designed for community college graduates who are accepted to four-year colleges. AAUW Auburn plans to expand this pilot program and offer as many scholarships as possible, depending on the amount of money that can be raised. You can find more information about AAUW Auburn and its scholarship program at: https://auburn-ca.aauw.net/