The 1911 election that granted women the right to vote in California also gave initiative and referendum power to the electorate through Proposition 7 (now California Constitution, Article II,§ 8(a).) "The initiative is the power of the electors to propose statutes and amendments to the constitution and to adopt or reject them."
Political corruption in the early 1900s set the stage for reform, and for the newly elected Governor Hiram Johnson to state in his inaugural speech: "The first duty that is mine to perform is to eliminate every private interest from the government and to make the state solely responsible to the people." Governor Johnson and a progressive Legislature put a package of constitutional amendments on the ballot that placed more control of California politics directly into the hands of the people. The process, with modifications,  continues today.
There are two types of Ballot Measures: Initiatives that amend the state constitution,  or Initiatives that create a new law in statutes. There are two ways a measure can be placed on the ballot:
The Legislature has the ability to place constitutional amendments, bond measures, and proposed changes in law on the ballot.
Any California voter can put an initiative or a referendum on the ballot by following the "How to Qualify an Initiative Process ", on the Secretary of State's website. Signature gatherers are usually employed to enable meeting the required number of signatures.
An initiative measure may be proposed by presenting to the Secretary of State a petition that sets forth the text of the proposed statute or amendment to the Constitution and is certified to have been signed by electors equal in number to 5 percent in the case of a statute, and 8 percent in the case of an amendment to the constitution, of the votes for all candidates for governor at the last gubernatorial election.
A statewide ballot measure can be approved by a majority vote of the people. Certain local ballot mea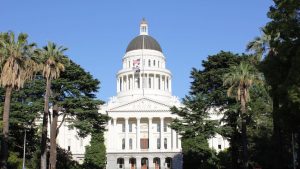 sures require approval by a 55% or a two-thirds vote of the electorate.