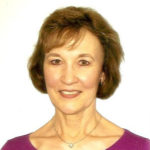 Describe any previous Branch positions and years you served.
Branch President 2012-16 and 1975-77
Vice President, Programs 2016-18
Parliamentarian, Bylaws Chair 2018-2020; 1978-79
Legislative Chair 1981-82
Topic Implementation Chair 1980-81 & 1977-78
Fellowships Chair 1973-75
Social Chair 1970-72
I served as Santa Barbara County Interbranch Council (SBC IBC) Chair 2014-16
Member of SBC IBC 2012-present, 1975-77
Describe any AAUW California positions and years you served.
Director, 2017-19 – Chair, Project Oversight Committee, Chair, AAUW Fund
Director, Educational Foundation Programs, 1978-80
EFP Treasurer, 1976-78
Talk about any AAUW California conventions you attended in the last five years.
Convention, Irvine Marriott Hotel, April 27-29, 2018
Convention, San Mateo Marriott Hotel, April 15-17, 2016
Convention, LA Airport Marriott, April 11-13, 2014
Annual Meeting, San Mateo Marriott, April 21, 2017
Annual Meeting, Manhattan Beach, April 18-19, 2015
Talk about any pertinent community activities or connections and their corresponding dates.
Santa Barbara County Workforce Development Board (WDB), 2012-present
SB County WDB Youth Committee Chair, 2015-present
Santa Barbara County Supervisor, 4th District, 1989-1993
Lompoc Valley General Plan Advisory Committee, 1982-83
Bridges out of Poverty Community Facilitator, 2010 – present
Institute of Cultural Affairs Training, 1993
Leadership California, 1993
Leadership Santa Barbara County, 1991
Talk about any AAUW National conventions you have attended.
I attended every AAUW National Convention between 1979 and 1987. Because of employment and family responsibilities, I missed several until 2013 and 2015. I missed the 2017 DC Convention because of a family wedding. Every Convention was a highlight of my AAUW involvement. The learning, the experience and the opportunity to meet new "dangerously educated" women were priceless.
I attended 1979 Albuquerque, 1981 Boston, 1993 San Francisco, 1985 Columbus, 1987 Houston, 2013 New Orleans, 2015 San Diego.
Describe any AAUW National positions and years you served.
I served on the AAUW National Board for four years as the elected chair/director of the Educational Foundation Programs (EFP)from 1983-87. During that time I attended the International Federation of Women Conferences in Gronigen, The Netherlands and Christchurch, New Zealand. I was an AAUW delegate to the 1985 "End of the Decade for Women" Conference in Nairobi, Kenya.
AAUW Fund Committee, 2018-present
AAUW National Elected Chair/Director, EFP, 1983-87
AAUW National EFP Committee Member, 1979-82
Describe your employment/professional experience, including current employment.
Currently, Consultant and Community Trainer/Facilitator, "Bridges Out of Poverty."
1992-2010, Vice President, Curtis & Associates, Arbor E&T and ResCare working with people on government assistance to obtain employment and become self-sufficient.
1984, Executive Assistant, United Space Booster, Inc., Vandenberg Air Force Base.
Are you available to visit branches statewide?
YES
Describe any other special skills or experience.
Training and facilitation, public speaking, organizational skills, planning and organizing meetings/conferences, energizing volunteers, problem solving and listening, computer skills and strategic thinking and planning.
Give your reasons for running for this office.
AAUW's Mission, Vision and Values are important for women and girls at this time in our history. AAUW members have the obligation to lead the way in protecting our democracy and ensuring that every person can live up to their full potential. I have the leadership and organizational skills to take AAUW CA to the next level in the state with increased membership and involvement.