We didn't let the COVID-19 pandemic stop us from gathering to share the 2019-2020 accomplishments of AAUW California.  On Saturday, April 18th, more than 300 AAUW California members attended the virtual Annual Meeting.
View the meeting and winning Speech Trek video and download presentation materials HERE.
Highlights
Announcement of State Named Gift Honoree: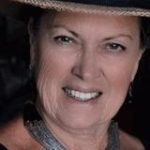 Donna Lilly, Past AAUW California President, was announced as  the 2019 California Named Gift Honoree.Each year the AAUW Fund Committee chooses one honoree from submissions by members and branches who has made a significant contribution to the AAUW mission and AAUW Fund.  Donna is an active member of the San Diego and Del Mar-Leucadia Branches as well as many community organizations. She is a director on the San Diego Air & Space Museum Board,the YMCA, and the San Diego Chapter of the United Nations Association. Donna is the current Chair of the AAUW California College/University Relations Committee and a former California Membership Vice President.  She is a promoter and facilitator for both Start Smart and Work Smart. 
Speech Trek Awards
As AAUW California Speech Trek enters its 15th season in 2021, we remembered the past and thanked the Gray Allen family, who for twelve years generously supported Speech Trek in honor of Eleanor Stem Allen, past president of Roseville Branch, award-winning educator, and loving wife and mother. 
AAUW California congratulated this year's winners who spoke about whether men and women are truly equal in 2020: See the winning speeches by clicking HERE.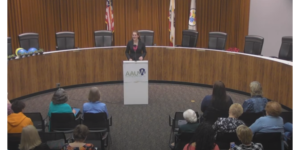 1st Place –  Olivia Berman ($1,500), Lompoc-Vandenberg
2nd Place –  Jackson Patten ($1,000), Stockton
3rd Place – Carter Hill ($500), Foothills of El Dorado County
4th Place – Namita Shyam ($250), California Online
5th Place – Gelasia Tiwana ($150), Morgan Hill
Rocking the Future:  The 2021 topic is "Has social media helped or hindered the breaking down of barriers for women and girls?"
The 2020-2021 Branch Toolkit and the 2020-2021 Student Toolkit will be available late spring/early summer.  For more information, please email Marlene Cain, AAUW CA Speech Trek Coordinator at [email protected].
A Virtual "Visit" by Kim Churches, CEO of AAUW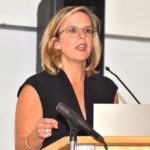 Kim Churches joined us from her home in Washington, D.C., and she stated that she actually put on real shoes in honor of our meeting!  She told us that we can still be Superwomen even if we are stuck at home, and she encouraged us to use various social media platforms to continue our work.  She emphasized the 2020 Gender Policy Agenda, touching on the main pillars of Economic Security, Education, and Foundational Rights. Then she talked about how to be a successful advocate, and she mentioned that advocacy is a marathon, not a sprint.  She ended by reminding branches of National's 5-Star Program which allows branches to be recognized for the hard work that they are doing.
Project Grant Awards
Every year the Project Oversight Committee selects two branch and/or affiliate projects to receive monetary support. This year the committee awarded $500 to Carlsbad-Oceanside-Vista's "GovTrek" – a 6-month immersion course in "How Politics Really Works." It is designed to introduce high school women to careers in public service. A second $500 grant went to Mariposa's "Tech Connect:  Multi-Media Messages" – a technology-based version of the Speech Trek competition. This encourages high school students to develop and present multimedia  productions based on Speech Trek themes. More details about these and the three other nominated projects this year will be posted soon.
Outstanding Branch Programs
The Program Committee was pleased to recognize branches for outstanding mission-based programs presented during 2019-2020.  Programs were chosen based on the criteria of their relevance to the AAUW mission and their effectiveness. Program topics included human trafficking, mentoring, pay equity, STEM/STEAM, suffrage, Title IX, and women's history.  Please take note that three branches were recognized for two separate programs! Those are Carlsbad-Oceanside-Vista, Long Beach and Santa Cruz County. It is our sincere hope that you will find inspiration in the recognition received by these branches and go forward into the 2020-2021 year with strong mission-based programs of your own. For descriptions of the winning branches' programs, click HERE.