(submitted by: Allyson Johnson and Claire Noonan, LA-MV AAUW) 
On January 22, 2022, the Los Altos-Mountain View branch of AAUW hosted a Zoom meeting to mark the 49th anniversary of the Roe v Wade Supreme Court decision which gave women the right to choose whether to continue a pregnancy. Three speakers reviewed the history of reproductive freedom in the U.S. and the latest threats to abortion access.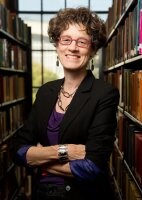 Professor Leslie J. Reagan of the University of Illinois, Urbana-Champaign, author of two books and specialist on the history of women's health in America, reminded the group that before Roe v Wade, tens of thousands of women died each year in the U.S. due to botched abortions. After the Roe v Wade decision, maternal mortality rate dropped between 35-50% in each state. "This was the greatest public health success since the discovery of antibiotics," Reagan stated.
What would a post-Roe world be like if the precedent is overturned? Reagan said, "We're not in the 1960s, but we will see reproductive rights refugees from the states which will ban abortion, and we will see deaths." Reagan did not foresee many prosecutions of women, but foresaw punitive public exposure and humiliation. Reagan also expects the reappearance of forced physical exams, as was done during the War on Drugs.

Christina Krysinski, Counsel and Associate Director of Policy at NARAL ProChoice America, outlined the current situation of reproductive rights in these words: "This 49th anniversary of Roe v Wade is a pivotal time. The current Supreme Court case considers the Mississippi law which bans abortion after fifteen weeks. There is no way that the court can uphold this law without overturning Roe v Wade." The decision will come down in June, right in the middle of the election cycle, and the crisis will move to state legislatures.
Krysinski added that the current Texas law denies abortion to the seven million women of child-bearing age in Texas – in effect, one-tenth of U.S. women are denied their reproductive rights. The Supreme Court, allowing the law to be implemented despite appeals, has given the green light to as many as twenty-eight states to enact or reactivate a total ban if Roe is overturned. Other states will be left to protect abortion services to manage the demand. California could see as many as one and a half million "reproduction refugees."
State Senator Josh Becker acknowledged the role that both NARAL and AAUW have played in promoting reproductive rights, and quoted Coretta Scott King: "Freedom is never really won. You earn it and win it in every generation." He noted that the budget proposed by California Governor Newsom includes funds to provide scholarships and training for medical students who will provide abortion care. Legislation approved in the last session protects out-of-state refugees from criminal prosecution. Pending legislation offers funds to assist refugees with medical bills, proposes funding for clinical facilities, and bars spreading disinformation.
Becker and Krysinski agreed that redistricting from the 2020 Census will initiate tremendous turnover in state legislatures. They linked voting rights to reproductive rights and encouraged the audience to elect "champions for choice" at the state and federal level. Becker urged the audience to pay close attention to what candidates say about key issues such as reproductive rights. He urged the audience to get involved by supporting candidates with donations and volunteer time.
To close the event, members of the Los Altos Stage Company live-streamed a scene from LASC's upcoming production "Roe " by Lisa Loomer, which focuses on Jane Roe, the plaintiff whose case made reproductive choice a Constitutional right. Attendees had prepared 8×11 Pro-Choice signs for display in a group screen shot to end the meeting. The photo was distributed to share on social media.
The play "ROE," by Lisa Loomer, will be performed by the Los Altos Stage Company, March 3-13, 2022. Click HERE for tickets.
Resources (Note that AAUW does not endorse any particular organization.)