AAUW is a member of many coalitions that support human rights and equality for women and girls. Collaborations include a strategic partnership with the Clinton Global Initiative and special consultative status with the United Nations, which means we have influential U.N. privileges that other nongovernmental organizations don't have. For detail information, go to www.aauw.org

(Great Decisions Program) 470 Park Avenue South, 2nd Floor, New York City, NY 10016-6819 Tel. # (800) 628-5754 or (212) 481-8100
For more information click HERE.

(UNAUSA and Business Council for the UN) 801 Second Ave., New York, NY 10017, Phone: (212) 907-1300.
Find a local chapter HERE.
American Women For International Understanding (AWIU)

AWIU connects women in the U.S. with women around the world, promotes woman-to-woman interaction and builds bridges of understanding through its delegation visits, grants, and local chapter meetings. For more information, visit the AWIU website.
"Half the Sky" by Nicholas Kristof and Sheryl WuDunn
Turning Oppression into Opportunity for Women Worldwide:  The Half the Sky Movement is cutting across platforms to ignite the change needed to put an end to the oppression of women and girls worldwide, the defining issue of our time. Visit Half The Sky Movement Website.
Human Rights for Women– CEDAW
(C
onvention on the Elimination of All Forms of Discrimination Against Women)
What is CEDAW? Click HERE to read FAQs on CEDAW.
Graduate Women International

Graduate Women International (GWI) advocates for women's rights, equality, and empowerment through access to quality secondary and tertiary education, and training up to the highest levels.  Please note: AAUW Association is no longer a member.
Women Graduates – USA (WG-USA)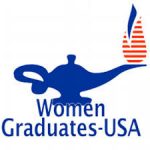 We are an organization seeking membership from women graduates who have an interest in international issues affecting women and children worldwide. WG-USA is affiliated with the International Federation of University Women (IFUW).