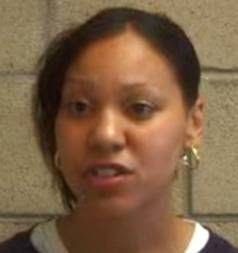 The AAUW CA Program Committee has selected Riverside Branch's  program on human trafficking for the "Branch Program of the Month".
Riverside held their LAF luncheon on November 2, 2012.  Their featured speaker was Anne Rogan, the aunt of Sara Kruzan.
Sara (pictured at right) was a victim of human trafficking sentenced to life imprisonment without the possibility of parole when she killed her pimp in 1994.  She was sixteen years old at the time, and had been trafficked since she was 13. She is now seeking a new trial.