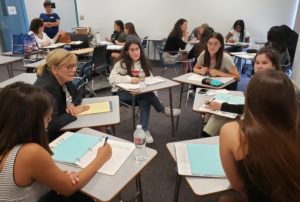 If you've been looking for ideas on how to get more women engaged in politics, you will want to consider "GovTrek: How to Rock the Next Generation."  The Carlsbad-Oceanside-Vista (COV) Branch was recently awarded a state project grant from AAUW California for GovTrek, an innovative program designed to encourage young high school women to consider a career in politics. This is a 6-month long course in "how politics really works" and it includes presentations by sitting legislators, critical-thinking and problem-solving activities, and workshops on civil discourse and conflict mediation. 
Initially scheduled as a convention workshop, this webinar is your opportunity to learn how your branch might duplicate this project.
Presenter
The webinar will be presented by Kathi Harper, State Director and Co-Chair of the AAUW California Public Policy Committee, and Chair of the COV Public Policy Committee.
Agenda
Overview of the COV program
How to design a program that works for your community
Challenges and ideas for overcoming them
What worked – and didn't