AAUW California has more than 100 branches offering opportunities for local advocacy, networking, programs to advance equity for women and girls and more. Branches function independently with guidance from the state and national organizations. They choose their own priorities and programs within those guidelines.
As a result, two branches in the same area may have different interests and be involved in different activities. They may just "feel" differently to you. We suggest attending a meeting or event of at least two nearby branches before deciding on the one to join. You have three options:
Search for a branch by name: Branches A to Z.
Search for a branch in a certain area, click from the list below.
Join our online opportunities
 1     Northern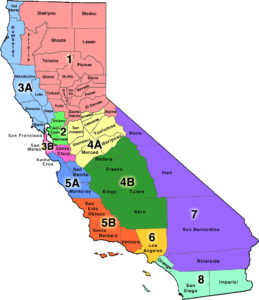 2    East Bay
3A  North Coast
3B  Golden Gate
4A  North San Joaquin
4B  South San Joaquin
5A  North Central Coast
5B  South Central Coast
6    Los Angeles
7    Southeast
8    Southern
If you still need help, contact Branch Assistance by clicking HERE.