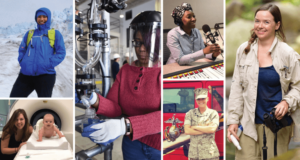 For the 2019–20 academic year, AAUW has awarded $4 million in fellowships and grants to 259 women and community projects. There are 30 Fellows and Grant recipients studying in California in 2019-20 and several will be guest speakers at our three AAUW Fund Luncheons. Six to eight recipients will give a brief overview of their studies or projects and highlight what AAUW's support has meant to them.
There are 9 American Fellows, 4 International Fellows, 5 Selected Professions Fellows, 10 Career Development Grantees and 2 Community Action Grantees. They are studying at UC Berkeley, UC Los Angeles, UC Santa Barbara, UC Davis, UC San Francisco, UC Irvine, UC Riverside, UC Santa Cruz, UC San Diego, Stanford University, University of Southern California, University of San Diego, Cal State Northridge, Cal State Fullerton, Northeastern University SF, National University LA, Lincoln Law School in Sacramento, Sonoma State University, Azusa Pacific University, Santa Clara University, Golden Gate University SF, Mills College and Southern California Institute of Architecture. Our two Community Action Grantees are from the Girl Scouts of San Gorgonio Council, Classroom to Career, Redlands and Girls Make VR (Virtual Reality), Arts Bridging the Gap, Los Angeles.
Please join us to hear from and learn from these talented and dedicated young women. It will be an afternoon that makes you proud to be an AAUW member!
Make your reservations now!
Northern California
Saturday, October 5, 2019 – RSVP by September 20, 2019
Sunday, October 6, 2019 RSVP by September 20, 2019
Southern California
Sunday, October 27, 2019 RSVP by October 11, 2019
Mail-in Registration