WOMEN TAKE ON MORE STUDENT DEBT THAN MEN … BUT ARE PAID LESS AFTER COLLEGE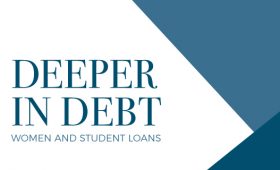 Between 1976 and 2014 the price of college attendance more than doubled, but household incomes barely budged. Today most students must bridge the gap between income and cost with student loans—followed by student debt. Women take on more loans and take longer to repay their debt, thus women hold almost two-thirds of the outstanding student loan debt in the United States.
Following graduation, women repay their loans more slowly than do men, in part because of the gender pay gap, and they are also more likely to struggle economically during repayment. This means that women may have to put off saving for retirement, buying a home, or starting a business.
Student debt is a systemic and national problem that disproportionately impacts women. AAUW members can help make changes to reduce women's student loan debt burden:
1. Congress must protect and expand Pell Grants for low-income students to reduce the amount of student loan debt they must take on to complete a degree.
2. State and federal legislators should increase funding for public colleges and universities and support efforts to move toward tuition- and debt-free options for students.
3. The department of education and lawmakers should make it easier for students to enroll in income-driven repayment options to help mitigate some women's financial difficulties.
4. Institutions can address the academic and financial needs of traditional and nontraditional students, such as access to childcare. Learn more and take action at AAUW National.
Adapted by Michele St. Clair, Public Policy Director, AAUW Healdsburg Branch, from https://www.aauw.org/resource/deeper-in-debt-one-pager/