We have developed a series of online workshops to take advantage of the tremendous opportunity to reach our branches and members through videoconferencing. We are elated that these workshops will be an expansion of the prior in-person Leadership Development Days. They will relate to the four California priorities with a "how to" focus and will be open to members as well as branch leaders. See below for a preliminary list of the exciting things to come!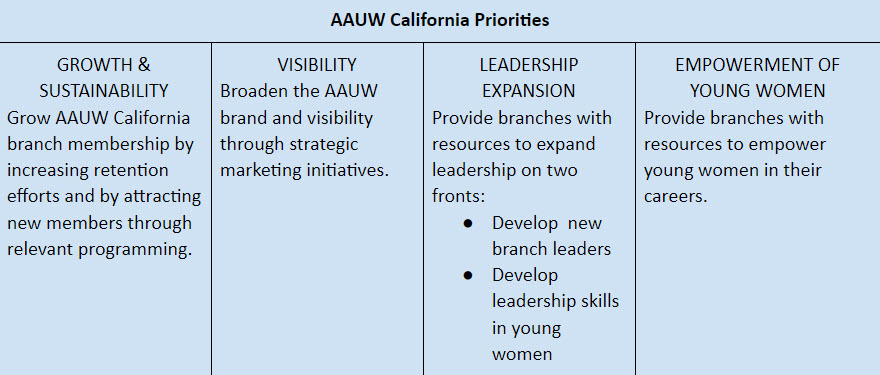 A recording of the presentations will be posted following the session.
Click on the highlighted workshop link to view materials and video presentation.
Upcoming Webinars
Workshop Date

Time

Workshop Title

Presenter

4/17/2021
9:30 am
AAUW California Annual Meeting
Our AAUW California Annual Meeting will be held via Zoom for the second year. No travel, no hotel reservations and no lunch, once again. But, that means you can attend at no cost from your office, living room or kitchen!

You will learn what has been happening in California this past year and it is a lot! You will see the three Speech Trek Finalists, learn who our 2020 State Named Gift Honoree is and see the first Equity Award given to former State Senator Hannah-Beth Jackson. AAUW Board Chair, Julia Brown will join us and we have a special event brought to us by past Co-President Cathy Foxhoven.
The meeting is open to the public. Registration is required. Click HERE to register.
AAUW California Leadership Team
5/26/2021
Don't Hesitate...Communicate! Oral, Written, Non-Verbal Communication Skills
Speaking across generational divides
Learn how to lead (not herd) cats in your leadership role and work with diverse personalities.
Marlene Cain
6/2/2021
7:00 PM
The Care and Feeding of Volunteers
Members are burned out? No one wants to be president? Getting and keeping volunteers and leaders is both an art and a science. This webinar will explore ways to recruit, empower, thank, and more importantly, KEEP the modern volunteer.
Registration required.
Click HERE to register.
Dawn Johnson
6/7/2021
7:00 PM
How to be a Branch Treasurer
The webinar is aimed especially at incoming branch treasurers. Seasoned treasurers/finance officers, presidents, membership chairs, Funds chairs, project leaders, and other board members will also benefit from the discussion. Finance touches everything, and the entire board shares responsibility for branch finances. We are also continuing our discussions with all Inter-Branch Councils (IBCs) regarding their finances.
Registration required: Click HERE to register.
Roli Wendorf
Past Webinars
Workshop Date

Time

Workshop Title

Presenter

5/19/20
A Roadmap for Branch Financial Management: All Your Questions Answered
Gain valuable information about branch financial management by watching this webinar.
Roli Wendorf
6/24/2020
GovTrek: How to Rock the Next Generation
If you've been looking for ideas on how to get more women engaged in politics, you will want to consider this program innovative program designed to encourage young high school women to consider a career in politics.
Kathi Harper
7/10/2020
Zooming into Focus
What's all the hoopla about Zoom? Learn how to use Zoom to support your branch or your family!
Sandi Gabe
7/25/2020
Cultural Diversity, Education and Dignity - Women Globally.
We live in a society consisting of various ethnic groups. Therefore, understanding each other is very important in order to facilitate collaboration and cooperation. A panel of speakers with different ethnicity will speak about the importance of cultural diversity and the positive impact as outcome.
Indrani Chatterjee
8/10/2020
7 PM
Speech Trek 101
How to Launch Your First Contest
Marlene Cain
8/26/2020
7 PM
Racial Injustice: Understanding It, Recognizing It, Talking About It.
AAUW California is committed to being an ally in the fight against racial injustice. This important discussion will help participants understand why this issue is critical to our organization, how implicit bias affects our ability to diversify, and how to have difficult conversations around this timely issue.
Kathi Harper
9/14/2020
7 PM
Waging a successful Get Out the Vote (GOTV) campaign in the time of COVID
AAUW California Public Policy Committee members will present useful strategies for educating members and the public on candidates and ballot measures and for increasing voter participation in their communities.
Kathi Harper
9/23/2020
7 PM
Show Me the Money: Fundraising Ideas For a COVID World-
Home tours, luncheons, yard sales, wine parties--all cancelled due to COVID. What can you do when you have to cancel your traditional money-making events? This webinar will present some unique (and fun!) ideas for creative fundraisers that can be held virtually. The approved fundraising policies and tax guidelines will also be reviewed. Get inspired to start something new at your branch!
Sharyn Siebert
10/1/2020
7 PM
How to manage your Speech Trek contest on ZOOM.
Learn how to set up Zoom to support your contest. We'll cover recording, managing contestants and judges for a successful event.
Sandi Gabe
10/10/2020
1 PM
AAUW Fund Luncheon

Judy Cavin Brown
10/12/2020
4 PM
Increasing Gender Diversity on the Boards of Nonprofit Organizations
There is a serious gender gap, particularly for women of color, on the governing boards of higher education and healthcare institutions ("eds and meds"), which are among the most powerful and consequential of our nonprofits. Explore the story behind the numbers, discuss why we should care, and consider what you and other stakeholders can do to effect change. Our speakers co-authored a recently published national study on this subject and are members of the Philadelphia-based Women's Nonprofit Leadership Initiative, which has been working since 2012 to change the numbers in their area.
Dianne Owens
10/24/2020
1 PM
AAUW Fund Luncheon
Judy Cavin Brown
10/28/2020
7 PM
Why Public Policy Matters
This workshop is for branches whose members are doing no or little public policy work; who do not have a public policy chair or committee; and who want to learn how to encourage members to engage in public policy projects, how to garner ideas for projects, and how to use PP to attract new members.
Kathi Harper
11/9/2020
7 PM
Keeping in Touch With Your Tech Trekkers - and Why You Should
In this workshop you will learn how to track down and guide these young women through high school and college and, even, into their careers. The workshop will introduce these ideas – and the people working on them.

Keeping your former Tech Trekkers close allows them to help you at branch events, mentor new campers, and keep in the loop about junior and senior counselor positions. You will be surprised how much your branch and these young women can help each other.
Carol Holzgrafe
12/12/20
7 PM
How to Manage your Speech Trek Contest on ZOOM.

Sandi Gabe
1/11/21
7 PM
Title IX: Breaking Down Barriers 2020
This webinar presented a panel of speakers who are knowledgeable about Title IX. They reviewed the history of Title IX, the impact on athletics/physical education, the new fight to reverse the damaging aspects of the Title IX Sexual Harassment Rule, and what you, as an individual and an AAUW branch, can do to inform your community members, learn how to speak up on the issues of gender discrimination, and encourage your community schools to comply fully with all gender equity laws.
Alicia Hetmen
1/27/2021
7 PM
Mentoring Women for Career Advancement
Me?…a mentor?
Why not. Learn about the role of mentoring and its potentially life-changing impact on young women in today's work world. Consider tapping the talents of your branch members to develop a mentoring program that is rewarding for both the mentor and the mentee.
Crystal Stebbins
2/8/2021
4 PM
How to Upload your Speech Trek Video to YouTube
Now that your Speech Trek competition is scheduled or has been held, learn how to edit your video and send your winning speech to AAUW California for judging.
Sandi Gabe
2/10 and 13, 2021
Tech Trek of the Future - Branch Coordinator and Treasurer Focus Group.
Sandi Gabe
2/24/2021
7 pm
She Who Thrives, Survives
Big branch? Little branch? It doesn't matter! Your branch can be successful! Thriving branches display characteristics that can be adapted to any size branch and in any type of locale. This webinar will provide attendees with guidelines to analyze if their branch is thriving. It will explore characteristics of successful branches, including leadership, membership retention, growth and engagement, and finally communication. In addition to learning what these characteristics mean, you'll hear examples of how they are put to work in successful branches.
Sharyn Siebert
3/16/2021
7 pm
Living our Mission of Equity for All
Should We Eliminate the Degree Requirement?

This spring AAUW members will vote on a proposed change in the bylaws that would eliminate the degree requirement for AAUW membership. Come explore how eliminating the requirement will help us to finally live our intent of equity for all women and girls. Hear from a panel of experienced AAUW members, see how your branch can help members learn about the issue, and envision a future of equity for AAUW.
Dianne Owens
3/22/2021
7 pm
How to Talk to Legislators
This workshop provided training for members who signed up for Lobby Day on March 24th. It will also be useful to members who are not coming to Lobby Day but would like to learn more about talking with legislators in their districts about AAUW public policy priorities and AAUW-supported bills.
Kathi Harper