April 2017
Reading Pals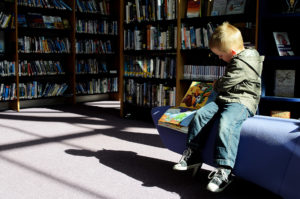 April 8, 2017 – Chico branch will be meeting with the local student-centered organization Reading Pals and donating children's books the branch has collected. Per the Reading Pals website, nearly half of Chico area grade-schoolers are unable to read at their own grade level. The organization's aim, therefore, is to see every child enter 7th grade able to read at grade level, fully equipped with the tools they need to learn, and to engage as citizen stewards of their community. 
Per branch president Helen Gesick:
The ability to read is fundamental to success in school, in the workplace, and in becoming an engaged citizen. A surprising percentage of kids in our own community cannot read at grade level. We are hoping to recruit concerned citizens who are willing to spend one hour a week helping a child learn to read, in turn, building their self-confidence and setting them on a path to success.

March 2017
 Girl Powered Engineering Using Lego
March 11, 2017 – Sunnyvale-Cupertino branch, with co-sponsorship from both Play-Well and Microsoft, hosted the event Girl Powered Engineering Using Lego.
100 girls from area schools got to have instruction and guidance from women engineers and scientists, along with the opportunity to design and build complex projects like bridges and robots. Microsoft provided rooms on their Silicon Valley campus, as well as refreshments; Play-Well came with the instructors and all the Legos.
The girls had great fun while also being introduced to concepts they will carry with them in whatever they strive to accomplish later in life. More importantly, this event will give these girls the experience of feeling included and supported in the collaborative environment intrinsic to STEM, and to the team dynamic in general. For more information about how this program came to be, contact Susan Stecklair.
---
Empowered Women Luncheon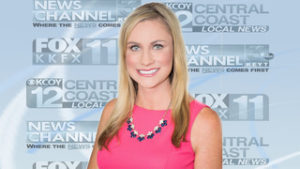 March 8, 2017 –  Santa Barbara-Goleta Valley
The Santa Barbara-Goleta Valley branch hosted The Empowered Women Luncheon which celebrates strong, independent women of integrity who can serve as role models for all women in our society.
This year's honoree is Kelsey Gerckens, reporter and anchor at KEYT-TV, the ABC affiliate station in Santa Barbara, California. Not only has Kelsey earned an Emmy and a Golden Mike award for her breaking news coverage, she and her fiancé Joey Buttitta also won The Amazing Race, the hit show on CBS. When she is not chasing down the day's top stories, Kelsey loves traveling the world and spending time outdoors.

February 2017
Speech Trek
February 16, 2017 – Big Bear Valley branch held their 6th annual Speech Trek competition. Striving to innovate each year fosters continuous improvement,  increases program quality and elevates AAUW recognition within the community and beyond.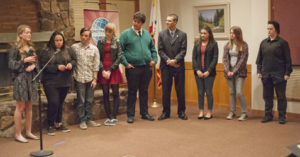 Community partners included:
Award-winning Toastmasters Club, Bearly Speaking, which assists in producing the contest.
Local high school, which now invites the branch into the classroom and incorporates the contest topic into its curriculum through extra credit, writing assignment and/or classroom discussions.
Local newspaper, who this year donated a large ad, covered the event and supplied a judge.
Community contest sponsors whose generosity enabled us to increase the overall quality of our contest, including venue, programs, videography and prizes.
---
American Muslims: Islam 102
February 15, 2017 – Alameda branch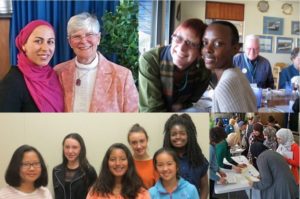 In cooperation with the Alameda Free Library and the League of Women Voters, The Alameda branch hosted a timely and extremely valuable education
forum. American Muslims: Islam 102 was in fact, the second part of a two-part panel discussion, the first part of which was held in October. As in the previous event, American Muslims: Facts vs. Fiction: A Dialogue, the program focused on understanding more – and dispelling common misconceptions – about the Muslim community.
As branch president Penny Washbourn explained to the East Bay Times who covered the event, "the Muslim 102 panelists [talked] about what Islamic faith really is as a way of life, and take questions from the audience about that." According to panelist Jehan Hakim of the Meet a Muslim program, as many as 40% of Americans have never even met someone of the Muslim faith. Perhaps the largest misconception about Islam is the role of women in the faith and the way many non-Muslims believe women are treated. With several devout Muslim women on the panel, this was certainly a topic that many of the 80 or so attendees were eager to learn more about. Curiosity, understanding, and knowledge all go a long way to knocking down the barriers of ignorance and intolerance.
---
Lunch and Learn with Rocky Cruz
February 3, 2017 – Chico branch hosted Rape Crisis Intervention and Prevention program director Rocky Cruz, who provided information on the RCIP program and the invaluable work they do through workshops for both adults and children. Like many similar organizations, RCIP has a 24-hour hotline staffed by trained volunteers, which they can always use more of. With this in mind, Ms. Cruz provided information for anyone wishing to become a crisis line volunteer.

January 2017
Leadership the Eleanor Roosevelt Way
January 14, 2017 – Victor Valley branch put on a fun little presentation to honor the Eleanor Roosevelt Fund featuring the great lady herself! A perennial favorite among members that is becoming eagerly anticipated throughout the Southeast IBC, the program is wholly interactive and includes a Q & A session with the former first lady, portrayed by our very own AAUW California President (and Victor Valley branch member), Donna Mertens.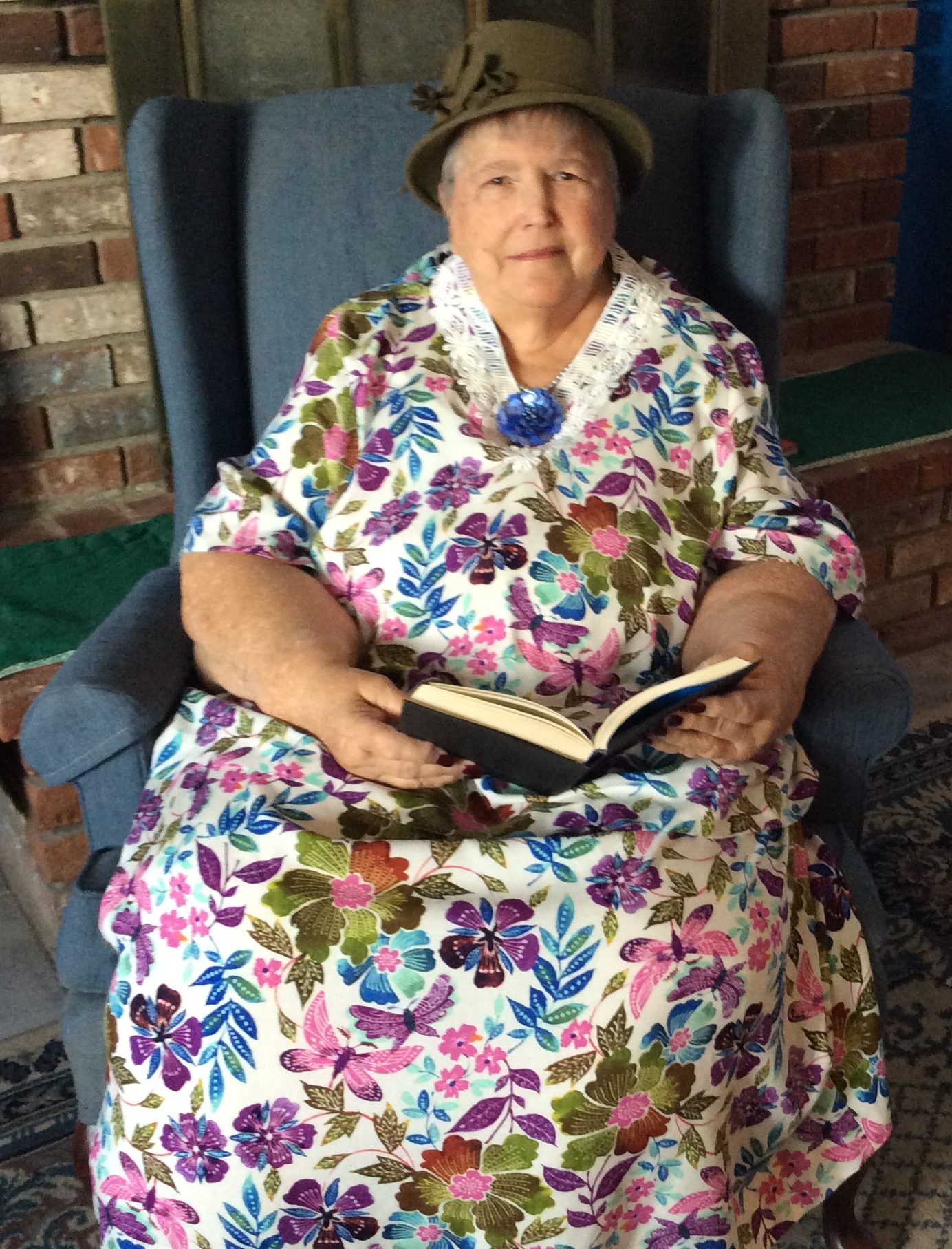 Donna's impersonation reflects both the importance and the relevance of Roosevelt's own values as a woman and as a role model, as well as her personal journey to becoming the iconic world leader who still inspires us today. Following the presentation, members were tasked with answering one of several questions:
What inspired you?
What challenged you?
What surprised you?
What is your passion?
These questions are equally important in relation to our Mission because they help hold us accountable to it. Periodically checking in with ourselves and each other helps us recognize what still inspires and challenges us, and what keeps us passionate about our work in AAUW. To put on your own version of this program, contact Jan Cook.
---
Lobbying in Sacramento for California Women and Girls
January 21, 2017 – Over at the Santa Maria branch,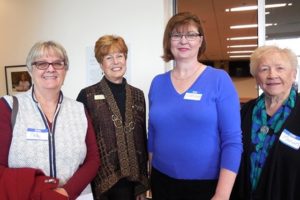 Legislative Advocate Shannon Smith-Crowley offered her valuable insights on the legislative process and how we, even as mere individuals, can influence change. "Tweets matter" and legislators pay attention to them, Shannon informed the group of 50 or so who opted not to slosh around in the rain (the event ended up falling on the same day as the Women's March).
In fact, legislators pay a lot of attention to what their constituents are saying on social media in general. This is especially important for grassroots organizations like ours, where social media plays such a vital role in getting the message of our mission out to our communities. But Shannon's work with, and on behalf of, AAUW California is just as critical to keeping our mission on the front burner of the state's legislative agenda.
Consider a community outreach program with public policy as the focus. Invite Shannon Smith-Crowley as the headliner, and re- learn some of the ways that our mission-based efforts make a difference legislative policy.

November 2016
CASA, CALM and NCRCCPC: Did you know?
November 12, 2016 – Santa Maria Branch
More than 45 attended a panel presentation by the Executive Directors from three local agencies who advocate for women and children. The panel educated and inspired AAUW and community members and provided visibility of AAUW. Participants included members from Northern Santa Barbara County League of Women Voters, Northern Santa Barbara County Women's Fund, and branch members from the Santa Maria, Lompoc-Vandenberg and Five Cities branches. Speakers described what services they provide to assist and support women and children in crisis in the community. The agencies represented include:
CASA – Court Appointed Special Advocates
CALM – Child Abuse Listening Mediation
NCRCCPC – North County Rape Crisis & Child Protective Center


---
Food Insecurity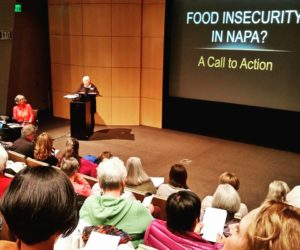 November 16, 2016 – Napa Valley branch and the Napa County Agricultural Commission co-hosted a public forum on Food Insecurity, an often overlooked issue faced by many in even the most economically sound communities. Members of the NCAC, as well as representatives from Napa County Health and Human Services and Live Healthy Napa County, CAN-V Food Bank and CAN-V Meals on Wheels, and the Local Food Advisory Council were all on hand to discuss the issue with more than 100 local residents, including vice-mayor Julia Inman, who came to Napa Valley College to participate.
---
50 Women Anthology Series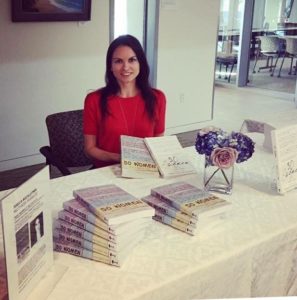 November 13, 2016 – Laguna Beach hosted distinguished author and human rights activist Jessica Buchleitner to present her 50 Women anthology series. The event was co-sponsored by the Laguna Beach Seniors, Inc. and presented at their the Susi Q Community Center in Laguna Beach and was open to the public.
From the 50 Women Project website:
In these individual stories, the women discuss their unique experiences navigating and overcoming obstacles concerning political, cultural and societal issues, armed conflict, gender-based violence, immigration, health afflictions and business ventures.

October 2016
Dinner with a Scientist
October 6, 2016 – Mariposa branch, in partnership with Mariposa Youth Impact Project (MyIP) and U.C. Merced, delighted and excited both participants and invited guests alike at their fourth annual Dinner with a Scientist.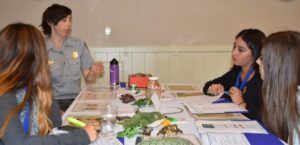 50 Mariposa County High School girls traveled to the Merced campus by rented coach for a dinner experience with women working in the sciences. This program, where four to six students sit at a table with an adult scientist, provides a near one-on-one opportunity for the students ask a variety of questions such as:
What is your work day like?
What courses did you take in college?
What should I do now to be ready to study science in college?
Scientists included U.C. Merced professors, physicians in private practice, biologists, engineers from local businesses, and other women in various STEM industries. Mariposa AAUW members work closely with MyIP to pair the girls with scientists for two separate table talks; then for the final round of conversation, the students themselves choose the professor or STEM professional they would like to spend more time with.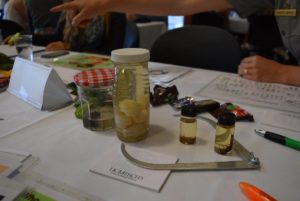 Post-dinner comments from the girls about their experience included:
"I learned more about the science I was interested in."
"I got a lot of input on what field I want to go into and advice about college courses."
"I liked the personal connection rather than hearing a talk to the 'whole class'."
The adult scientists, too, have reported that they are encouraged by the interest demonstrated by the students, about half of whom had arrived earlier in the day for a special tour of both the social science and "hard science" laboratories on the campus.
---
That same evening the Laguna Beach branch, in cooperation with the League of Women Voters Orange County, provided a forum for local school board candidates to field questions from the hundred-plus electorate who attended. The event was covered by local journalists at the Laguna Beach Indy.
Branch Program chair Lynn Weiser describes organizing the forum: "We advertised by posting on the Chamber of Commerce calendar, and sent press releases to our local and online press. We partnered with The League of Women Voters, Orange Coast, to assist with the voter registration drive and one of their volunteers was the timer for Forum's Q & A session. Laguna Beach High School let us reserve their Artists Theatre for the public event, and I requested high school student volunteers to collect question cards from the audience. Our moderator was a local parent and former PTA president, familiar with school district issues."
Weiser also contacted local media directly (the Laguna Beach Independent – cover story with photo! Stu News, and the LA Times) to promote the event, as well as using social media campaigns.

April 2016
Race Matters
April 26, 2016 – Napa Branch 
It was standing room only at the Napa County Library when the Napa branch started a conversation about race, looking at how we think, talk, feel and behave about issues of race, ethnicity, stereotypes and "otherness". The community dialog was an effort to foster introspection, offer tools and resources and promote tolerance.
Speakers included:
Omar Salem, Napa Police Officer and a member of the Muslim community
Alexandria Brown, Research Librarian with the Napa County Historical Society
Charlie Toledo, Director of the Suscol Intertribal Council