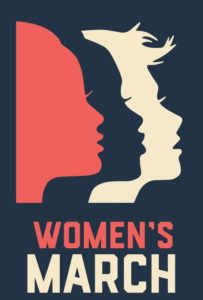 How will you participate in 2018?
In 2017, AAUW California members participated in the national movement to assert that "Women's rights are human rights".
On the anniversary of the historic 2017 Women's March, you can keep the movement alive by participating in a local event. Marches will take place nationwide. In California, marches and rallies are planned for Saturday, January 20, in Sacramento, San Jose, San Francisco, Oakland, Los Angeles, San Luis Obispo, and Santa Cruz. The march in Santa Cruz will include art installations.
Sister Marches across California has a comprehensive listing of events. Click on the link and put in your location to find events in your community.