Bingo
Get your Bingo daubers ready!
The Program Committee is excited to launch a fun new interactive activity that will celebrate your branch's efforts to fulfill the AAUW mission.
Mobilize your members to complete the items on a Bingo card and everyone will be a winner: your members, your community and the women and girls you inspire.
How the game works
There are two rounds of play that end with a grand prize and acknowledgment at the State Convention in April.
Complete a traditional BINGO in each round by completing activities that are in a straight (horizontal, vertical or diagonal) line on the card.
Report your results when you have achieved a bingo.
The fine print:
You can participate in one or both rounds. You will be entered into the grand prize drawing for each round that you complete.
One entry per branch per round.
Activities must occur in the round and reported by the end of the round.
Submit your results online
Click here to submit Round A results October 1 – December 31, 2017.
---
Rounds
| | Activity Dates | Reporting Dates |
| --- | --- | --- |
| Round 1 - ACTIVE ROUND | October, November, and December | Report results by December 31, 2017 |
| Round 2 | January, February, March | Report results by March 31, 2017 |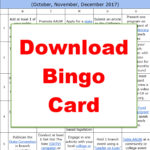 Questions?
Contact Stormy Miller and Jane Niemeier at program@aauw-ca.org.